In art theory, TEXTURE is considered one of the Elements of Art, along with line, colour, shape, form, value and space. We use some (or all) of these elements each time we capture a photograph or create a piece of two- or three-dimensional art. HOW we use these elements (the Principles of Design) determines the impact of our imagery, and the stories they tell.
Elements of Art: line, colour, shape, form, texture, value and space
Principles of Design: balance, movement, pattern, repetition, rhythm, proportion, variety, emphasis, contrast
Note, 'texture' doesn't exclusively refer to a literal tactile texture like you might find on a tree trunk. In photography, texture can also be created by the way you light elements to create the illusion of texture.
Texture, or the illusion of, can be used to add depth to a scene. It can create interest or intrigue to help build a story. It can portray abstract concepts. Or, it can be used to create psychological responses to a scene, based on our associations with types of textures. For example, wrinkled = aged; smooth = new; rough = uncomfortable; silky = soothing or extravagant. Take note of textures around and consider your own response to them.
---
ELEMENTS OF ART – TEXTURE
Texture is often described as how a surface "feels". In three-dimensional works, texture may engage with the viewer's sense of TOUCH as well as SIGHT. In two-dimensional photography, however, we miss the tactile sense of texture, and so rely on composition, styling and camera angle, to communicate the qualities of texture to the viewer.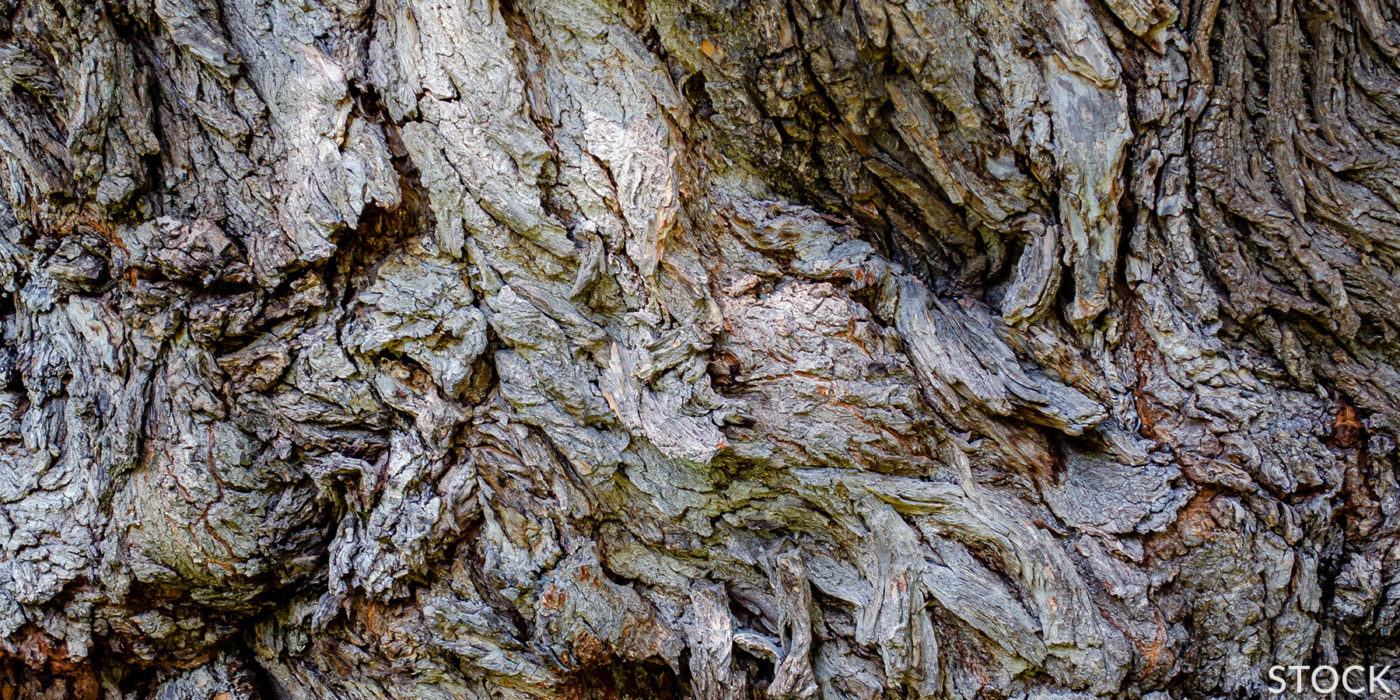 ---
USING TEXTURE IN PHOTOGRAPHY
Camera angle as well as direction and properties of light (hard/soft) can increase or subdue the intensity of texture. Texture can be lit to create a sense of depth within a scene. Adding depth can help to draw the viewer in to an otherwise flat, two-dimensional photographic image.
---
TEXTURE FOR DEPTH
Note the direction of light in the twins' image below. The fabrics themselves are quite soft. However, their styling, combined with camera angle and direction of light enhances the deep texture of these folds. The fabric appears to rise and fall due to the resulting highlights and shadows. This creates an illusion of depth in this two-dimensional image.
---
TEXTURE TO UNIFY OR DIVIDE
Texture can be used to create compositional contrast (principle) in an image. It can unify or divide a frame. The image below appears as two halves – defined by the blocks of smooth and rough texture.
---
TEXTURE IN MOVEMENT
Movement is one of the Principles of Design. It can guide the viewer through an image, or direct them to an area of interest. It can also be used to evoke emotion or mood. As photographers, we can use the element of texture to convey movement.
Both long and fast shutter speeds can be used creatively, to convey a sense of movement through textures.
In this seascape below, a long exposure has been used to create visual contrast between water and rocks. Without the long exposure, the water in this scene would likely have been rough and textured. It would be too similar to the rock forms. There'd have been little separation between the two, and no sense of balance.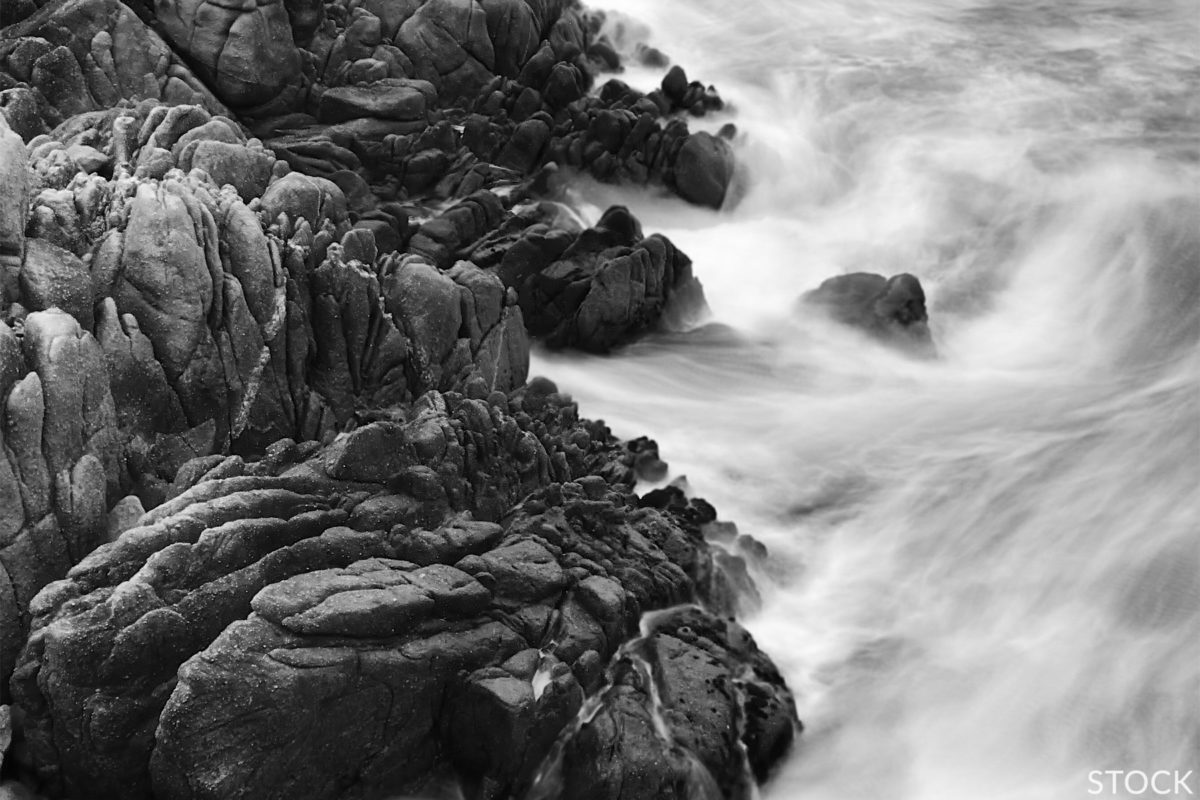 By using a long exposure, the movement of the ocean has been transformed into a gentler blanket of water. This complements the harsh rock forms for a more balanced image, which allows the eye to rest.
---
TEXTURE AS COMPOSITIONAL CONTRAST
Using Design Principles such as emphasis, contrast, proportion and balance, the following images from Kelly Brown show how texture can be used in newborn and family photography to draw attention to the subject.
Note the layers of texture in the image (green) below. The circular shape (element) has been used to frame the subject. The variety between the busier floral texture, transitions smoothly into the softer fluff. The solid outline of the wrap defines the newborn, before the detailed texture of the cheesecloth across baby's body creates another level of contrast (principle). The smoothness of baby's skin resolves the finished image and the viewer's eye comes to rest with the subject.
Texture can also be very simple. A textured background creates contrast between the subjects and an otherwise bland background, without overwhelming the viewer with too much variety.
The trick is finding the right balance, through colour, density and contrast. This will ensure the texture supports rather than dominates the subjects.
---
USING TEXTURE TO COMPLEMENT WITHOUT OVERPOWERING
In the below, you will find 8 different textures, from floor to background, not counting the subject's outfit. That's a lot of variety for a single image, so what makes it work, without overpowering the subject?
Starting at the bottom of the image, look at the textures and how they have been arranged. Kelly has alternated heavier textures with smoother fabrics. By alternating heavy and smooth, it creates visual relief between each layer of fabric.
Choosing fabrics with similar hue, intensity, and value (brightness) has also contributed to the harmony amongst these textures. See our article on Colour for more information. If Kelly had used a greater variety of tones and colour in these fabrics, they would dominate. Sticking to the limited palette prevents them from competing with the subject for attention.
Kelly has also used the elements of Colour and Value (brightness) to separate the subject from the darker textures. This creates balance (principle) and places emphasis (principle) on the subject.
---
ASSESSING TEXTURE IN PHOTOGRAPHY
With what you have learned from this article, consider how texture has been used in these images from Kelly Brown.
Understand and use these Elements and Principles to create images with greater impact, based on the foundations of art theory.
Spend some time focusing on how you use or imply texture in your styling. Pay attention to how light falls on your set to create the illusion of texture and sense of depth. You can apply these principles to everything from styling your client sessions to decorating your studio. If you decorate your home for seasonal holidays and celebrations, keep these principles in mind then also!
MORE READING: You'll find our other articles relating to Art Theory here.
YOU MIGHT ALSO LIKE: Analysing the Elements of Art from NY Times.