MATERNITY PHOTOGRAPHY TIPS
Maternity photography is a wonderful opportunity to create stunning portraits that expectant Mums will cherish forever. Pregnancy is a thing of beauty that should be captured. These tips will help you to draw out the beauty, love and femininity of your clients.
---
BEFORE YOUR SESSION
Before your session, the most important thing is communicating with your clients about how they are feeling and how they would like to be photographed.
We have to remember that for some women, even though they look radiant, they may be feeling nauseous, tired, sore and larger then they would like to. So, understanding this will help make them as comfortable as possible during their shoot.
Ask if they will be bringing their partner and children, so that you can prepare and plan ahead. I do love it when family members are involved. In fact, I encourage it, as this is a wonderful opportunity to capture the anticipation, joy and excitement during this special time in their lives.
Asking how they would like to be photographed allows you to plan for your session.  I like to ask if there is anything specific that they had in mind or a particular location that is special to them.  Asking as many questions as possible will help you to create stunning fine art images that they will adore.
---
WHEN TO BOOK MATERNITY PORTRAITS
The first thing your potential clients need to know is when to book their session. I tell them the best time is between 28 & 34 weeks. This is when their baby bump is showing beautifully, but they're not too close to their due date.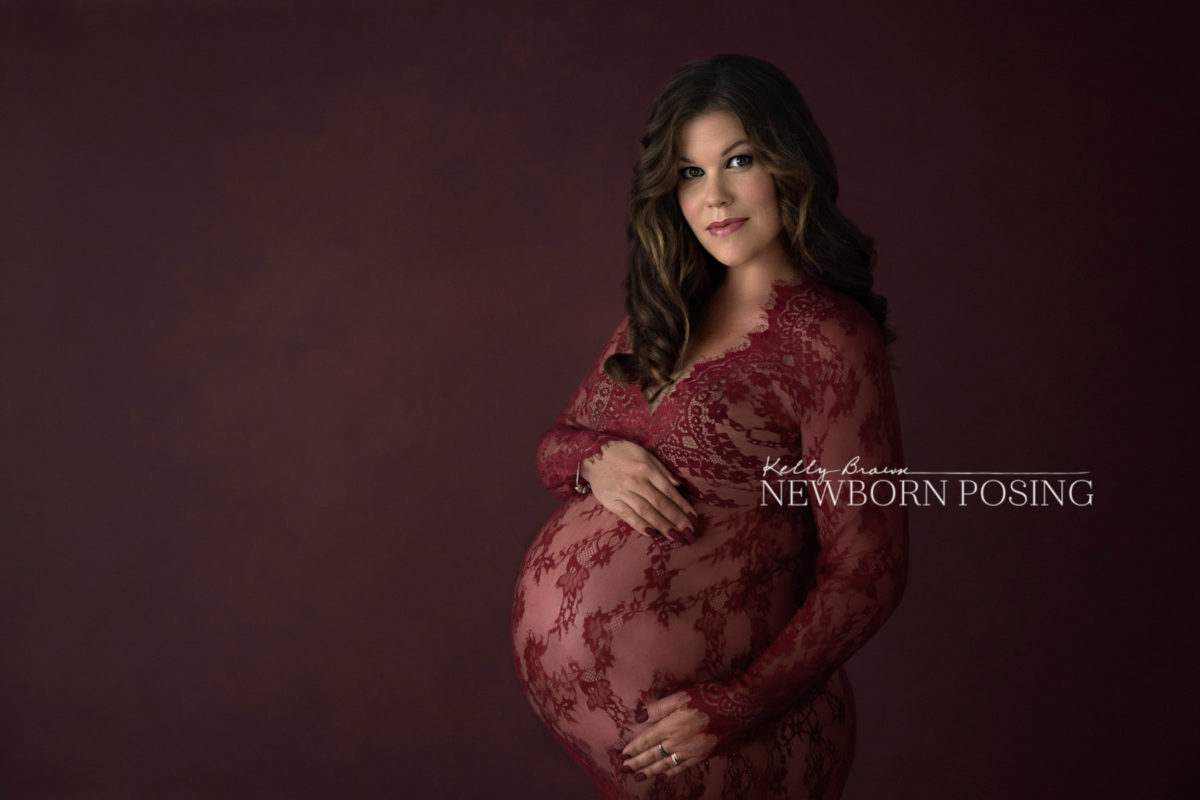 ---
DURING THE SESSION
During the session your clients will be dependent on you to guide them. You'll need to direct them with how the session will flow, when to change outfits and how to pose.
This will not only give them faith in you but in themselves, knowing what to expect and what to do.
---
MATERNITY POSING
It's essential that you learn and practice posing techniques which will make your clients look and feel comfortable. You'll also need to understand which camera angles do and don't work, as well as how to control light to create flattering portraits with impact.
Kelly Brown's Maternity Posing tutorials will show you how to capture beautiful images of Mum alone, and with a partner.
---
DOS AND DON'TS OF MATERNITY PHOTOGRAPHY
DO…
Show your clients what to do – this gives them a visual so they can mimic you
Bring the ankles together
Lift the heel closest to the camera off the ground
Place hands on or near the body to give more shape and outline to the baby bump
Angle the body away from the camera to see the profile
Have them stand up tall with shoulders back to prevent slouching
Shift their weight to the back leg
Place a hand on the lower back to create an "S" Shape to the body
Get creative with your camera angles

shooting from above is very flattering and don't forget to move around to get different frames; pullbacks and close-ups.

Talk to them. Give lots of positive feedback and reassure your client that they look amazing.
DON'T…
Expect your client to know what to do
Have them stand flat-footed
Photograph them front-on – this can make a woman look masculine and take emphasis off the baby bump
Crop through the belly
Shoot from below
Make them move too much – getting up and down can be very tiring and uncomfortable
Photograph your client's head tilted back
Position hands inappropriately
---
BE CLIENT FOCUSED
Remember posing and holding different positions for any length of time is taxing and hard work when you're pregnant. So allow for small breaks and offer water.
The goal is to capture timeless images that tell their story. So remember to remove all distracting elements and focus on the client.
This is such a momentous time for expectant parents and an honor for us to document. We need to remember that it's not just about the bump; this is their time to celebrate family, the life that they have created and the next stage of their lives.
---
FINE ART MATERNITY PHOTOGRAPHY
Once you are comfortable with the essentials of Maternity Posing, you might work towards creating maternity portraits with a Fine Art twist. When creating unique setups for bespoke portraits, work with your clients to learn about their story and their likes. Create something which accentuates who they are, captured in a beautiful timeless photograph.